I'm going to be totally honest here; I didn't have high expectations for 2022. The previous two years could only be likened to a nuclear bomb going off in the world we knew. I ended 2021 with a horrendous break-up, homeless, and crying on my friend's sofa in Wanaka, where I was crashing for the summer. Again, hopes were not high. 
In fact, when I look back on the beginning of 2022, I can't even really remember all that much. I have emotional PTSD. I went through the motions of day-to-day life, propped up by some of my oldest friends. But I couldn't really tell you specifics. It was too painful to commit things to memory, I think. I was trying to survive.
We started 2022 with our international borders still closed in New Zealand, and no idea when it would change. I was stuck, and I hated it. At the time, I had no idea what to do with myself, my work, and where to live. My world had imploded. At the time, I didn't realize that I would essentially be homeless for half a year, trying to figure out my new normal. Where would I land?
I quickly realized that I couldn't be in Lyttelton for a while. Space away from where I had been living and all of the painful memories was what I needed. Unsurprisingly, I landed five hours away back in Wanaka, my old home and where I knew I could heal, especially with the help of my friends. 
But perhaps even when we are ghosts of our former selves, we can rely on muscle memory to carry us on. Wake up. Brush teeth. Drink coffee. Get dressed. And little by little, month by month, I began to find myself again.
And then things began to change, as they usually do. That old adage of how time heals blah blah blah is unfortunately true. With my final book draft due at the end of summer, I had the perfect excuse to be away and threw myself into writing. And I went into the hills seeking nature, and nothing makes you feel quite so good as time offline outside having adventures. 
As I emerged alive again, I smiled and laughed, and happiness began to appear in my life bit by bit. It feels like a lifetime has passed since I've done a travel roundup. But as we shift into 2023, I feel compelled to reflect on the past year, what I've done, and my 2022 travels. If anything, I note this for myself, a reminder of the things we can do when times get hard, to look back on where I was and where I am now.
As someone who tends to be really hard on herself, believing that she never does enough, this is a good reminder that we are enough. 2022 wasn't so bad after all.
Walking the Routeburn Track
I talk a lot about the power of nature to heal in my new book, as well as touching on the experience of walking the Routeburn Track right after my break up. With Auckland still in lockdown at the end of 2021, I booked a last-minute spot on the Routeburn during a fine weather spell; it was magic and just what the doctor ordered for my battered heart. 
In fact, it was so magic I walked it again on New Years' with an old friend. 
I think the Routeburn might be my favorite Great Walk. It's shorter than most, clocking in at 33 kilometers, and can be walked in two to three days. It has everything: ancient beech forest, big mountains, unique birds, classic huts, and good swimming spots. It also traverses two national parks: Fiordland and Mt. Aspiring (pro tip: use Easy Hike to relocate your car from the start of the track to the end).
My next goal is to run it in one day. Let's see if I can tick that off for 2023.
Exploring Fiordland in summer 
The summer of 2022 was one of the hottest I remember on the South Island, and my 2022 travels began right here on the South Island. I spent most of January working down in Fiordland on media projects.
Fiordland in the summertime is magical. Last January was unusual for two reasons: firstly, there were no tourists. Our borders were still closed, and COVID was starting in the community; everything felt uncertain. And it was super weird to be down in Fiordland in peak tourist season with no tourists. It was also boiling – it didn't rain for weeks and weeks, the lakes and rivers dropped, and the lush forests started to become dry and even brown. I had never seen anything like it. 
But I made the most of it, spending long days in the hills tramping and exploring new places. It was so unique and a significant step in my journey of healing.
Hanging out down south
After Fiordland, I made my way south to Southland, a region I've been visiting on and off for a decade. Covering the bottom of the South Island and Stewart Island, it's home to waterfalls.
Living in Wanaka, places like the Catlins and Riverton are our go-to seaside spots when we want to go away to the coast. It had been years since I had been back down this way, and it was really special to enjoy it through a new lens.  
Heading back to Stewart Island
Stewart Island is one of my favorite places in the world. New Zealand's quiet third island off the bottom of the South Island is wild and remote. Less showy than other destinations, you have to really love nature, wildlife, and being off the grid to fully appreciate this place. 
I spent nearly a week here last summer during my 2022 travels, which gave me the space and time to heal and reflect. I even took the time to tramp all the way down to visit the bones of the stranding whales I stumbled on years ago, an experience that changed my life. 
Getting offline sailing around Dusky Sound
Perhaps my favorite adventure of 2022 was spending nearly a week on the Breaksea Girl, a boat out in the remote Dusky Sound with Wild Fiordland. 
Milford and Doubtful Sounds are the most famous fiords in New Zealand because they are (somewhat) easily accessed. Dusky Sound is harder to reach; most people fly in by helicopter. It's been high on my bucket list for ages to visit, and I was so excited to spend a week on a boat here last summer. 
Created by locals to share this incredible slice of paradise in Fiordland with others, an adventure here is worth it. If you need an experience to catalyze change in your life, this trip is for you. I still arrived sad and angry about my breakup and felt 100 pounds lighter. You know, mentally. The food was insanely good, and we also caught crayfish and fish to cook up on board.
Tramping, tramping, and more tramping
Summertime means tramping time when you live in the mountains of the South Island. You've gotta make the most of the long days when the sun sets at 10 pm, and the snow has melted from the peaks. When I reflect back on my 2022 travels, tramping and being in the hills is a real highlight for me.
Last summer, I spent many nights in the New Zealand backcountry climbing mountains and swimming in the lakes. One of the highlights was finally ticking off the Gillespie Pass route near my home in Wanaka. It kicked my ass, and I lost half of my toenails, but it was so worth it. 
Writing and shooting my first book.
In addition to being outside and making the most of nature on my healing journey, I also finished writing my first book – Houseplants and Design: A New Zealand Guide (international shop here). I spent day after day glued to my laptop at different cafes in Wanaka and writing it kept me busy and sane. 
Many people ask me how long it took me to write my book. That's actually a tricky question. It was a year's worth of work, but the writing took me six weeks at the most. The editing, fact-checking, and shooting of the photos were the most challenging and took me the longest. 
At the end of summer, I spent almost two weeks traveling all over New Zealand taking photos for the book; from private houses to botanic gardens to shops and cafes, I met many fabulous like-minded plant people. It was so much fun and a cool way to experience New Zealand in a way I hadn't before.
Finally getting back to the US to see my family
After two years of being stuck in New Zealand behind closed borders, I finally managed to get out to see my family, the highlight of my 2022 travels. Once my final book drafts were submitted to print in March, I booked flights to the US. I left before the official announcement of the border opening with the complete understanding I might be stuck in the US, but I didn't care. At that point, I still didn't have a home, and my big jobs were all wrapped up. 
It was weird flying out of Auckland with closed borders. The entire international terminal was closed and empty except for one bar. But how good was it to finally arrive in the US? It was amazing, and I ended up staying with my family for six weeks. 
I still haven't come to terms with the trauma that this forced separation had on me. I'm just glad it's over (for now).
Visiting friends across the pond in Sydney
Pre-pandemic, I used to go to Sydney almost monthly.
Many of my partnerships and business collaborators have their main Pacific offices in Sydney, so I was always over there. The direct flights from Queenstown to Sydney are usually about three-ish hours, making it easy to hop across the pond.
It was amazing to be back, and I spent my time catching up with friends, getting dressed up and going out, and enjoying the big city life; it was a small but exciting experience on my 2022 travels. I feel like the theme of 2022 was catching up with friends and family you haven't seen since before 2020.
Officially moving into my own place in Wanaka
By winter, I had begun quietly looking for a place to live in Wanaka. Man, things have changed here, and rentals were slim and expensive pickings. 
Wanaka is the kind of small town where everyone knows everybody, and it's usually easy to find a place by word of mouth. I ended up looking at flats on Trademe and finding a nice one in Hawea, a lakeside suburb of Wanaka. Many of my friends have moved out here recently, so it's a great place to be based. 
I eventually signed a lease for a  beautiful brand new small one-bedroom flat. A few of my friends live all around me, and it's so lovely to have a place to settle in after nine months of living out of a storage unit and my car. Though I will say it took me months to furnish it, and I lived on an air mattress for three months. That's not an experience I'm keen to repeat any time soon.
Enjoying Tekapo as a winter wonderland
Tekapo is one of New Zealand's most popular tourist towns, and with good reason: she's a beauty! Roughly halfway between Wanaka and Christchurch, it's a stunning high country town overlooking a bright blue glacial lake and the Southern Alps. 
My houseplant shop, NODE, is in Lyttelton, so I often stop in Tekapo on my commutes between Wanaka and Christchurch. One of my dearest friends also lives in Tekapo. I spent nearly a week here on a project this winter, exploring the area with fresh eyes. I'm so glad I've made the most of my 2022 travels and experienced my own backyard before tourism en masse resumes.
When Tekapo is really busy with tourists, it was easy to skip on by, but to have it all to yourself in winter? Well, it was nothing short of magical.
Self-care on the west coast
I've made no secret of the fact that one of my favorite places to get away to write is on the West Coast of the South Island. At least once a year, I try to make the time to get over to the Punakaiki area.
Usually, I go there in the winter because that's when the weather is nice and calm (surprising, I know). My 2022 travels brought me back to a place I love.
The West Coast is New Zealand's least-populated region, so you often have beaches all to yourself. There's something so nostalgic and lovely about listening to the sound of the surf or walking through the rainforest, and it makes me so happy.
Returning to Doubtful Sound with new friends
Visiting Doubtful Sound is pretty memorable, and seeing it twice in a year is extraordinary. 
For Mental Health Awareness week, I spent a few days off the grid on the RealNZ boat in Doubtful Sound, soaking up the beauty of Milford. We had every weather and lots of adventures, and it was a perfect reminder of how much I love my job and appreciate the opportunities that come with it.
Remembering my roots as a travel blogger in Esperance, Western Australia
Finally, after nearly three years, I took my first blogging trip overseas on my 2022 travels; excited doesn't even begin to cover it. This time I was headed to a place I had been dreaming about for so long: Esperance. 
Lucky for me, Air New Zealand has resumed their direct flights to Perth so that I could hop on over for a two-week adventure around one of the most beautiful parts of Australia. 
WA (Western Australia) is magnificent. Big, bright, and beautiful, it's almost like its own country. And Esperance has the best of everything. Incredibly colorful, it's home to the whitest beaches in Australia, the sea is crystal clear, the roads are earthy red, and there are salt lakes that are bright pink. You have to see it to believe it.
It felt so good to slip back into my old role as a travel blogger, and it was a wonderful reminder of what I can do. It's hard to stay sad in beautiful places like this.
Enjoy the release of my book Houseplants and Design: A New Zealand Guide
In the weeks leading up to my book being released on November 1, 2022, I was shitting my pants with fear and anxiety. I knew there was no point in worrying, but I couldn't help myself. 
While I've considered myself a writer for over a decade, a book was entirely new territory for me. There is something rather terrifying about creating something over the course of a year (and secretly, too) and then releasing it out into the wild far beyond my own community. 
But as soon as it came out, my stress began to ebb away. I cannot believe I managed to create something so important (to me, at least) during one of the most challenging years of my life. Wow.
Traveling to Chile, a new country for me
I've never been that kind of travel blogger who tried to tick as many countries as possible off a list. In fact, I'm not even sure how many countries I've even been to. I enjoy returning to places I love and experiencing them in a new light. 
In November, at the end of my 2022 travels, I made my way down to Antarctica to guide my first trip there since the pandemic. The travel routes have not picked back up to their pre-pandemic levels, and there were only a few costly options to get to Ushuaia, Argentina, where the ships depart from. 
In fact, the only direct flights between New Zealand and South America are with LATAM Airlines to Santiago, Chile. A new city for me, and I stopped for a few days on my way over to experience it. I had a great time. And I had fantastic food. More on that soon as I reflect back on my 2022 travels.
*PS I've got my next round of trips to Antarctica up for 2023 and 2024 – you can apply here to get sent all the details!
Guiding my first trip down to Antarctica
Finally, finally, FINALLY, I was going back on a polar adventure. It had been years since I last stepped foot on an expedition ship, and I was dying to return to the ice. Antarctica is one of my favorite places in the world, and when Chimu Adventures approached me to guide my own trips there, I couldn't say yes fast enough. 
Like New Zealand, it's a place I know really well, and it's a place I can't shut up about. I'm fully aware that I enter that Hermione-know-it-all state when I talk about Antarctica, and I don't care. The polar bug got me good since 2014.
Over the last decade, I've done seven polar expeditions worldwide, and this trip solidified my desire to become an expedition guide. As an introvert, I was nervous with 17 of you guys joining me on the ship (137 passengers on board). But we had the most amazing time. We all got along so well, everyone was like-minded, and we stayed friends. It was a group trip for people that aren't super into group trips. You could do your own thing; we could hang together. There was freedom. It was amazing, and I can't wait to go back again (click here to learn more about joining me).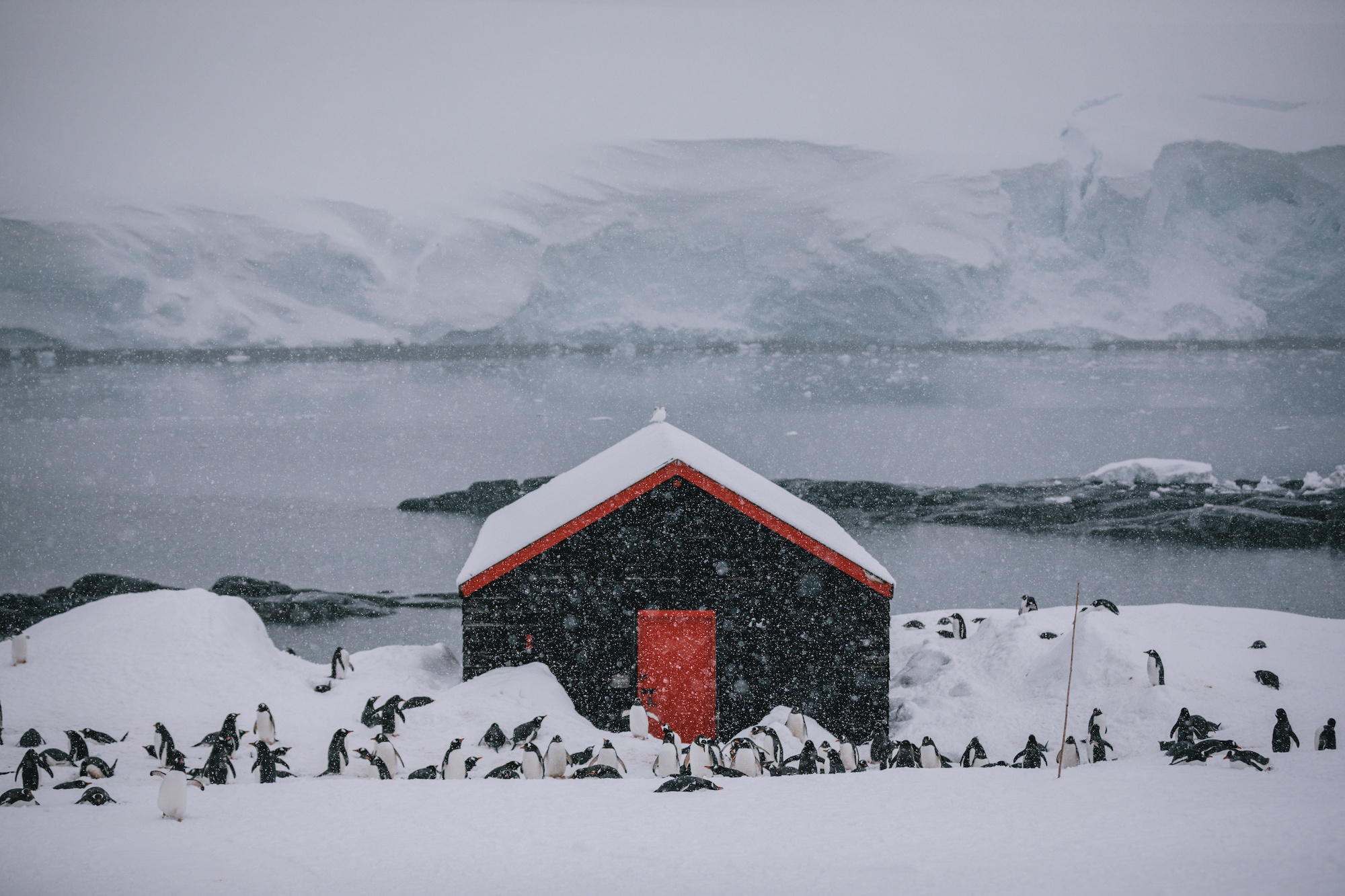 Country roads take me home – seeing my family again in the US
And to top off the end of a dollar coaster of a year, I flew home for a week to see my family in the States on my way back to New Zealand. I'm determined to see them as much as possible, and even though it was a short stay and I finally caught COVID on my flight back to NZ, it was lovely. 
How was your 2022? Did it exceed expectations? Any fun 2022 travels or adventures? Share!
The post 2022 travels: a year of surprises and adventures appeared first on Young Adventuress.